Browsing articles from "June, 2010"
What "type" are you? A whimsical exercise from design & branding giant Pentagram. I won't divulge what this is actually about; try it and you will find that it is a clever yet succinct bit of  "typographic" fun.
See Pentagram
GOOD Magazine has an intriguing article on the subject of "trademark creep":
It's every entrepreneur's dream for his or her trademark to become a household word. But what happens when that intellectual property becomes dissociated from its brand? Case in point: Thermos, zipper, escalator, popsicle…photoshop, google, twitter.
The original article can be found at: Generification: When "Google" Becomes "google" – Wordtastic – GOOD
This award-winning ad for the Argentinian national lottery is an amazing (and hilarious) example of localization branding.
Loteria de la Provincia de Buenos Aires: Money | Ads of the World
For those of you who watch "Mad Men", you are no doubt familiar with DDB, the ad agency co-founded by the legendary Bill Bernbach. In a recent DDB whitepaper, entitled "Brand Personality", the authors explain rather eloquently why "brand" matters:
"It gives much food for thought that the brands with the best direct contact to their customers often have quite low advertising budgets. Apple, Virgin and Converse are a few examples that spring to mind. This does not mean that they do not invest resources in their behavior; instead they use their energies in alternative ways. The three companies have control over their entire value chain to such a degree that consumers have their perception of the brands confirmed wherever they encounter them. At the same time, these brands are felt to have a presence in the world in almost the same way as their customers. You sense that they are enthusiastic about what they do."
By Michael Tanenbaum
I am married to an Argentinean woman who, like me, is a pop culture child of the '80s. We occasionally exercise our nostalgia for old American and Argentinean TV commercials by rummaging through YouTube. This morning we re-discovered two fantastic Coca-Cola commercials, "I am the future of the world" from 1986 and "Coke is for Everyone" from 2002. What is remarkable is the strong part that localization plays in Coke's brand advertising strategy. They consistently demonstrate the ability to speak in a unique and credible voice to individual nations and cultures.
Watch the reel for "I am the future of the world":
This video reel contains the British, Argentinean, Colombian and Peruvian versions of the same commercial, which they likely localized to many other countries as well. The melody and theme are the same in each, but the lyrics are modified to each country's colloquialisms. The song title was localized for the Argentinean version: they say "mañana" instead of "futuro". The kids playing the main character are dressed differently in each, to correspond to each nation and culture. The scenes are also staged slightly differently, while the Peruvian version is especially localized. Watch these ads a couple times to get a feel for what is going on.
The "Coke is for Everyone" ads are from 2002. This reel, from countries as diverse as the USA, Thailand and Norway, is fascinating in another way: How Coke speaks to the individuals and subcultures within each culture:
Using the same concept and imagery across all the ads, each clever and humorous use of Coke is slightly tailored to the local idiosyncrasies of the respective culture. For instance, two bottle caps symbolize a pair of lips giving a kiss, which is unique in each ad. Or two bottles interacting in a suggestive way in the European ads but more discreetly in the Thai ad.
Coca-Cola is a master at this sort of brand advertising. And YouTube is a fantastic and powerful tool to discover and research the successes of other companies and organizations when it comes to localization.
Dubberly Design has an incredible map of the creative process. Highlight: Discover, define, design, develop, deploy (!). In this model, the creative process is both iterative and recursive, playing out through the conversations of the participants and affected by their language, experience and values. Kind of like social media.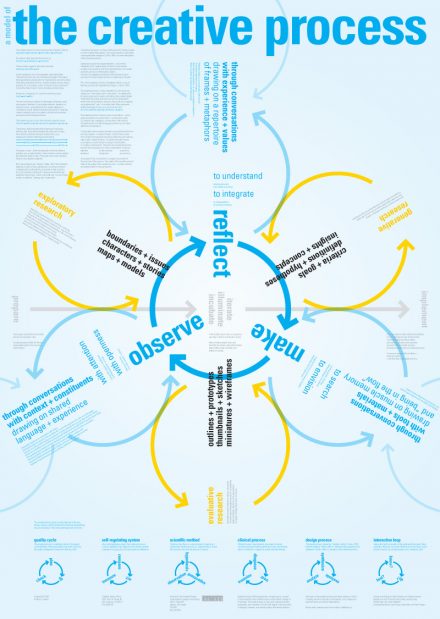 The original article can be found at at Dubberly Design's website and blog: A Model of the Creative Process.
Leonardo da Vinci famously observed that "simplicity is the ultimate sophistication."
Alan Siegel, co-founder of brand strategy leader Siegel+Gale, gives a fascinating TED talk where he applies the art of simplification to insurance policies, bank loans and mutual fund agreements. He takes issue with the complexity and legal jargon that undermines many legal and business communication tools.
A great brand is an enduring story well told. This quote by Nancy Duarte of Duarte Design reminds me of why stories are so powerful:
"Presentations were made to be passed on from meeting to meeting.
Stories were made to be passed down from generation to generation."
Multi-grain Pringles snacks? Are you kidding? Pringles are supposed to be potato chips! Brand extensions are getting a bit diluted. Same goes for Cheerios. Aren't Cheerios supposed to be made from oats!? Now there is 7-grain Cheerios!
Is FIJI Water eroding its way to commodity status? Five years ago you could only find FIJI Water in high-class establisments. By contrast, I took this photo in Walgreens today.