Browsing articles in "Blog"
Word in the blogosphere is that Amazon.com plans to open a brick-and-mortar retail store in Seattle in the coming months. According to an article in The Fool, quoting a blog post from Good Ereader, "Amazon's store would sell high-margin items including e-readers, its Kindle Fire tablet, and Amazon-published books."
This would be folly.
Amazon built itself on being a disruptive business. Now, by building a physical store, Amazon threatens to entrench itself with a right turn into the very business model that it so thoroughly upended.
Amazon's key competitive advantage – and its core competency – is that it is a cloud-based store. That core competency includes tightly managed overhead costs, no sales tax and minimal employee salaries. For a behemoth like Amazon, it runs a lean organization. Opening a physical store not only would be confusing branding: Amazon practically defined the online shopping experience through low costs, aggressive pricing and superb supply-chain management; but also would go against the grain of what Amazon has become known for: Knocking brick-and-mortar competitors such as Borders out of the book business.
Apple strengthened its position by opening brick-and-mortar stores in 2001 because they allowed the curious general public to see, touch and experience their products. This was but one more piece in Apple's consolidation of the brand buying experience. An Amazon store would do the opposite, as the Amazon experience lives online, not in stores, and is not tied to any particular product – not even the Kindle. Amazon IS online shopping.
Article referenced in this post: Rumor Report: Amazon's New Retail Store
Congratulations!
Today is your day.
You're off to Great Places!
You're off and away!
You have brains in your head.
You have feet in your shoes.
You can steer yourself
any direction you choose.
You're on your own. And you know what you know.
And YOU are the guy who'll decide where to go.
Dr. Seuss was one of my childhood heroes. As a child, his books spoke to me with a high level of respect and intelligence that always endeared me to whatever lessons he was teaching through his rhyming words and oddball characters.
Like all truly great writers, those same books can be read and digested on multiple levels, at all ages, across religious and cultural divides.
This is an excerpt from one of my favorites, "Oh the Place's You'll Go!" Published in 1990, this book reads like an ode to personal branding and the entrepreneurial spirit.
Excerpt taken from the full text of "Oh the Places You'll Go.".
For more information on this and other Dr. Seuss and his books, please visit Seussville.
In an article entitled "Why Apple, Why Does it Have to Be Like This? The Cold Cynicism of the iBook EULA", author Marshall Kirkpatrick laments the exclusive distribution rights (through the Apple iBooks store) that Apple's terms and conditions confer upon ebooks composed using its new iBooks Author tool. He, along with other prominent writers such as Ed Bott, feels that "[t]he tension between the creative potential enabled by this kind of software and the crushing authoritarianism of the conditions it's shipped with is remarkable."
I respectfully disagree with the position of this article.
iBooks Author is a free tool that enables amateur writers, otherwise unpublished authors and creative individuals with no access to publishing contracts to gain exposure and access to markets as well as profit from their works.
In exchange for the privilege of composing, publishing and monetizing an ebook on Apple's easy-to-use platform, Apple demands exclusive distribution rights. Certainly, these terms and conditions appear, on first read, to be harsh. However, exclusive contracts are nothing new in the publishing industry. For instance, if a writer contacted a traditional publisher, like Random House, they would likely be forced to signed an exclusive contract as well – if they were lucky enough to even get a contract.
More importantly, Apple is literally giving away a tool that is superbly designed and flawlessly integrated with its other development tools such as Pages and Keynote. I cannot wait to publish on this platform and reap the benefit and massive distribution that Apple's iBooks store provides.
This excerpt from a comment by Twitter user @badunn wonderfully summarizes my own sentiments:
"….But we're all free to develop interactive books for Amazon or Barnes & Noble… Except that Amazon hasn't offered up any tools for doing so. And to sell on Amazon, you don't just need approval from Amazon, you need a publisher to sign you, and to get that, you need a book agent, and to get that, you need to spend months or years shopping your manuscript around, a process that most agents still insist be conducted via snail mail. And even before that, you probably need to hire an expensive development company that only large media houses can afford, because there are no tools on the marketplace for developing interactive books. But as a writer or media creator, you probably don't have an extra $30k sitting around to hire a development company… So instead you go to Apple, download the FREE tool, make your book, and if your talent merits attention, and you've had a good idea, people will buy it."
Empowered authors of the world, let's publish!
N.B.: Apple tweaked the legalese of its iBooks Author app this week (02/03/2012) to clarify what was causing so much heartache for ebook authors. Here is a summary, from All Things D: "A couple weeks after introducing its new iBooks Author app, Apple has clarified legal language about what happens to the books users create with the software. Apple continues to insist that users can only sell electronic books in the iBook format via its iTunes store. But it makes it clear that the content of those books can be sold in any other format, without Apple's approval."
Can someone please explain to me what an Ultrabook is? Here is one attempt. I am confused. And I am sure so are the target consumers. Do they compete on price? weight? thinness? the presence of solid state drives?
Houston, we have a positioning problem.
Heck, just get a MacBook Air!
I never realized how controversial it is to do web design with "the fold" in mind. Designing with the fold in mind is still vitally important. But it is not everything. If you have strong enough content and design elements that lead your readers to scroll to that content, then the fold is merely the beginning rather than the end of your audience's time on your site. Either way, responsive CMS themes can partially mitigate the effect that varying browser window sizes have on your content's display.
Source article: The fold exists, but does it matter?
I love how the shape of this billboard serves as the olive oil plate as the bread is being dipped into it. I pass this billboard every day on the way to work and am endlessly inspired by its inventiveness and how it delivers its message by using the shape and texture of the canvas.
Image credit goes to Daily Billboard.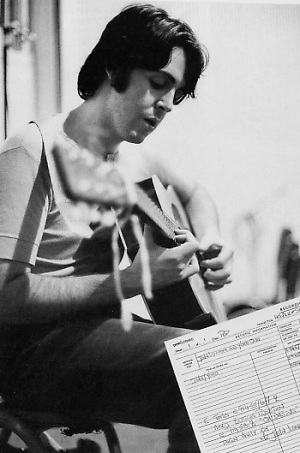 I just had an epiphany about "Her Majesty", the "hidden" song fragment at the end of The Beatles' "Abbey Road" album:
This song is not a fragment.
At 23 seconds in length, it is a complete song. It has a full-fledged structure, A-A-B-A (verse-verse-bridge-verse), just like millions of regular-length songs. Its bridge advances the story in another direction from the verses, before returning to the original theme in the final verse. "Her Majesty" is an elegant example of compactness and simplicity.
I challenge you to write a complete song as compact as "Her Majesty".
Test your knowledge of brands bases on colors, style elements and short clues:
This game, which consists of 30 matching pairs of cards, looks cute. But I can't see how it can be played more than once: After you play it, you already know the answers!
Who owns the rights to use a Twitter account and its followers after the employee who maintained it leaves the company? This begs a discussion on the essence of a Twitter account: Is the account's brand equity the information being tweeted or the real person behind the account and his or her personal relationships?
Source article:
Company Sues Former Employee for Value of 17,000 Twitter Followers
Don't mess with the Coke brand:
Coca-Cola made a rare branding blunder this season with the debut of its Arctic white Coke Classic cans. The problem? They look too much like Diet Coke cans. Tradition and color scheme are important brand attributes. When consumers feel that they cannot trust such an established brand preference, they get confused, return the product or develop a buying backlash. #Coke #brand #fail
The source article was from ABC News.