Browsing articles in "Posts"
What "type" are you? A whimsical exercise from design & branding giant Pentagram. I won't divulge what this is actually about; try it and you will find that it is a clever yet succinct bit of  "typographic" fun.
See Pentagram
GOOD Magazine has an intriguing article on the subject of "trademark creep":
It's every entrepreneur's dream for his or her trademark to become a household word. But what happens when that intellectual property becomes dissociated from its brand? Case in point: Thermos, zipper, escalator, popsicle…photoshop, google, twitter.
The original article can be found at: Generification: When "Google" Becomes "google" – Wordtastic – GOOD
This award-winning ad for the Argentinian national lottery is an amazing (and hilarious) example of localization branding.
Loteria de la Provincia de Buenos Aires: Money | Ads of the World
For those of you who watch "Mad Men", you are no doubt familiar with DDB, the ad agency co-founded by the legendary Bill Bernbach. In a recent DDB whitepaper, entitled "Brand Personality", the authors explain rather eloquently why "brand" matters:
"It gives much food for thought that the brands with the best direct contact to their customers often have quite low advertising budgets. Apple, Virgin and Converse are a few examples that spring to mind. This does not mean that they do not invest resources in their behavior; instead they use their energies in alternative ways. The three companies have control over their entire value chain to such a degree that consumers have their perception of the brands confirmed wherever they encounter them. At the same time, these brands are felt to have a presence in the world in almost the same way as their customers. You sense that they are enthusiastic about what they do."
Dubberly Design has an incredible map of the creative process. Highlight: Discover, define, design, develop, deploy (!). In this model, the creative process is both iterative and recursive, playing out through the conversations of the participants and affected by their language, experience and values. Kind of like social media.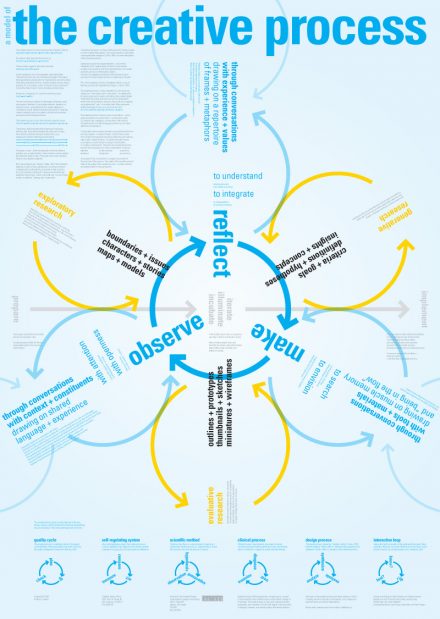 The original article can be found at at Dubberly Design's website and blog: A Model of the Creative Process.
Leonardo da Vinci famously observed that "simplicity is the ultimate sophistication."
Alan Siegel, co-founder of brand strategy leader Siegel+Gale, gives a fascinating TED talk where he applies the art of simplification to insurance policies, bank loans and mutual fund agreements. He takes issue with the complexity and legal jargon that undermines many legal and business communication tools.
A great brand is an enduring story well told. This quote by Nancy Duarte of Duarte Design reminds me of why stories are so powerful:
"Presentations were made to be passed on from meeting to meeting.
Stories were made to be passed down from generation to generation."
Multi-grain Pringles snacks? Are you kidding? Pringles are supposed to be potato chips! Brand extensions are getting a bit diluted. Same goes for Cheerios. Aren't Cheerios supposed to be made from oats!? Now there is 7-grain Cheerios!
Is FIJI Water eroding its way to commodity status? Five years ago you could only find FIJI Water in high-class establisments. By contrast, I took this photo in Walgreens today.
What happens to a company like Domino's or Comcast when it fails to properly use social media to connect with its customers? The brand becomes irrelevant, a casualty of missed opportunities. Don't let fear of failure keep you from getting in the game: Use social media to follow, engage and challenge your customers. Remain relevant.
Intriguing piece by Jack Morton Worldwide's Experiential Marketing Blog, What Does Social Media Failure Look Like?.